Germany's ProSiebenSat.1 is taking a different route in the ad-funded world, says Kate Bulkley
With the general flatlining of linear TV audiences, broadcasters that depend on advertising have been spending a lot of time working out how the next five to 10 years could look for them and revising their playbooks accordingly.
In Germany, commercial broadcaster ProSiebenSat.1 sees TV's future differently from many. According to chief executive Max Conze, TV needs to remake itself into "an entertainment and commerce champion".
Yes, big hits like this summer's blockbuster The Masked Singer, the finale of which generated a 38% market share for ProSieben, are still welcome, but Conze wants to redefine what the TV business can be.
Perhaps he thinks differently because his background is in consumer goods, including many years at Procter & Gamble. When he took over ProSiebenSat.1 in June last year, Conze had been running vacuum cleaner brand Dyson for seven years – helping to turn a niche British company into a global technology leader.
"Conze sees growth potential in ProSiebenSat.1's digital commerce portfolio and 'smart' digital advertising"
Presenting ProSiebenSat.1's latest quarterly results, Conze – who will deliver a keynote address at Mipcom on Monday (14 October) – told investors not to think of the company as a TV advertising business, claiming that description is too narrow.
What Conze sees is growth potential in the company's digital commerce portfolio and "smart" digital advertising – content creation, TV and digital viewership and consumer needs coming together. It's in the latter area where ProSiebenSat.1 has cut a very different path to most broadcasters.
The broadcaster owns NuCom group, a commerce business with investments in online companies offering services, price comparison, gifting and experiences, and dating and beauty.
Together, they create 360 million annual consumer interactions and should achieve ¤1bn (£890m) in revenues in 2019. Conze wants to double this by 2023.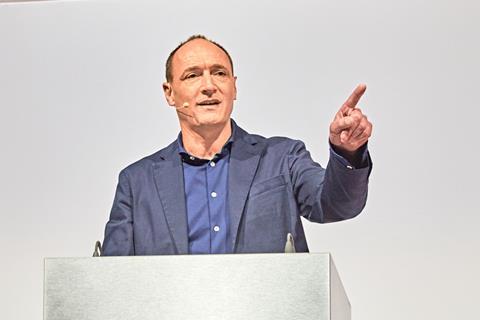 ProSiebenSat.1's audiences, data collection and advertising technology will supercharge the e-commerce business, with Conze seeing his assets as an ecosystem that can serve as an "amplifier" for commercial deals and even help fuel new business models.
Indeed, he sees a virtuous circle of entertainment, audiences and commerce, including through the recently launched streaming service Joyn – a partnership with Discovery in Germany that aggregates 55 channels, including the public broadcasters ARD and ZDF, and lots of on-demand content.
He talks about "total video view time" across both linear and online services because he recognises that ProSiebenSat.1 needs to offer the right services, supported by smart and targeted advertising, to capture growing demand.
Conze is also doubling down on creating and owning local content, investing heavily in its entertainment division. This move has pummelled the share price, which is down a whopping 44% over the past 12 months, but the investment is part of what Berenberg analyst Sarah Simon calls "a transition year".
Simon notes that in the second quarter of this year, total viewing time for ProSiebenSat.1's TV content in Germany grew by 0.3%, compared with a 5% fall in viewing clocked up in the same quarter by ITV in the UK.
Conze's recent announcement of a strategic review of international production and distribution business Red Arrow Studios is not necessarily a preview to an outright sale. It's more likely about finding a partner who shares his vision of the new entertainment, commerce and data ecosystem and can add something important to the mix.
Conze told analysts recently that it is the "dream of every marketer" to have in one company "awesome" entertainment, linear and digital reach, data-driven advertising and commerce assets – and his ambition is for ProSiebenSat.1 to become that business as soon as possible.
News from Broadcast Now