---
THE new £14 million Pentland Ferries catamaran which will operate between Caithness and Orkney is expected to make her first crossing early next month.
The MV Alfred arrived in St Margaret's Hope on Wednesday after a 9000-mile trip from Vietnam, where she was built, and is to undergo final fittings and trials before making her inaugural journey across the Pentland Firth.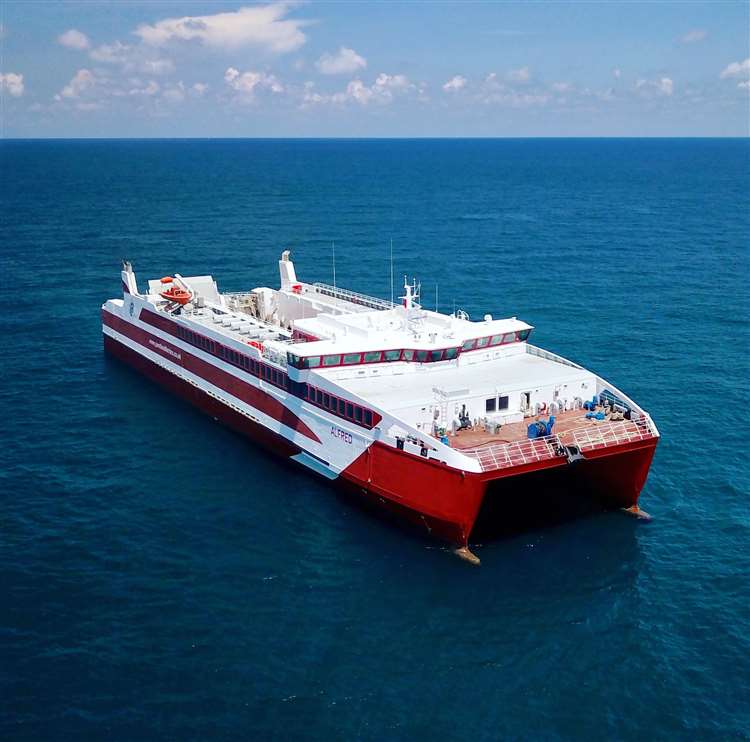 The ferry can accommodate 430 passengers and 98 cars, or 54 cars and 12 articulated vehicles/coaches, and has an indoor sun-deck lounge as well as five other seating areas.
The company's managing director Andrew Banks is delighted with the quality of the ship and the service it is set to deliver.
He said: "This is the most environmentally friendly ferry of its kind in Scotland and its low fuel consumption makes it the greenest way to travel to Orkney. We're confident that our passengers will love the high quality of the new facilities and the improved capacity on board."
MV Alfred was named in honour of Mr Banks's father, a pioneer of the ferry business who died at the age of 87.
We're confident that our passengers will love the high quality of the new facilities and the improved capacity on board.
The vessel, which will run from Gills Bay in Caithness to St Margaret's Hope in Orkney, was launched earlier this year after being constructed in Vung Tau, about two hours' drive from Ho Chi Minh City (formerly Saigon).
Invited guests, shipyard workers and representatives from Pentland Ferries watched as the completed hull rolled down the slipway.
The naming ceremony was performed by Louise Berston – Andrew and his wife Susan's daughter-in-law – with a bottle of OVD rum, which was Alfie's favourite tipple.
Since the keel was laid, 1050 tonnes of steel hull and aluminium superstructure were welded together in a large covered workshop.
The completed hull contains all the ship's main state-of-the-art machinery, including its environmentally friendly propulsion system.
The ship's twin hulls have been hydro-dynamically designed to deal with her propulsion and manoeuvring in water. The fit-out of the interior took place prior to a complete series of sea trials in Vietnam before Pentland Ferries' crew sailed the vessel back to the north of Scotland.
She left Vietnam on August 29.
MV Alfred, which was built at the Strategic Marine shipyard, is 84.5 metres long and 22 metres broad and has a maximum draught of 2.7 metres, and was designed by BMT Nigel Gee. Work began in April 2017 when the keel-laying ceremony took place.
The new vessel, which will replace the Pentalina on the route, is expected to create jobs at the firm, which employs 55 staff, and give a boost to tourism in the north.
Mr Banks said trade had been building up each year with the Pentalina running at full capacity so a bigger vessel was needed on the route.
News From John O Groat Journal