Climate change protestors have a new weapon in their arsenal. The latest rage among those jumping on Al Gore's bandwagon (or private jet) is to superglue themselves in protest to prove their point.
They somehow think attaching themselves to places and things will save the planet.
The most bizarre stunt with superglue involves a man quite literally sticking himself to the top of a commercial jet at the London City Airport.
These folks can't decide if the climate is cooling or warming so they have changed their phrasing to include both. Now it's called climate change and with this latest tactic the only thing that is changing is that more people recognize the lunacy involved in this movement.
Environmentalists Use Superglue To Protest "Climate Emergency"
Last week, James Brown (not the singer) decided to climb on top of a British Airways jet and superglue himself down as part of a climate change protest.
The Paralympian with vision issues is upset that the UK is allowing airports to expand while there is a "climate emergency".
Thus, Brown felt that glueing himself to the top of the airplane would bring attention to this cause du jour. It brought attention, but not in the way he hoped.
Many saw the man as an out-of-touch radical who only was hurting himself while also inconveniencing everyone on board that plane. The paralympic cyclist's stunt likely interfered with other flights as well.
The tweeted pictures are rather laughable and clear evidence of just how crazy environmentalists have become.
Jonathan Mew@jonmew · Oct 10, 2019
Not sure he's in the right seat number #londoncityairport
Liberal Logic Backfires
As the tweeted video below shows, it took several people to get Brown unstuck from the airplane.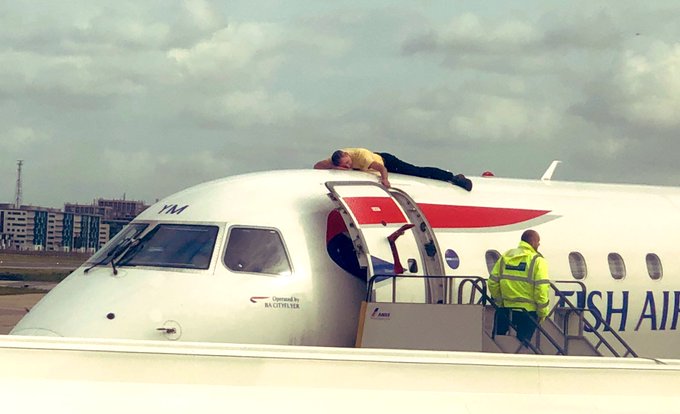 The irony with this stunt is that the superglue could have affected the aerodynamics of the plane.
If this is the case, it is possible that more fuel would be needed. Brown doesn't appear to have thought this plan out very well.
And in related news, taking and reading an extinction rebellion leaflet from protestors does not endear oneself to the police in the airport.
Extinction Rebellion Protest Videos
Brown also live-streamed on Facebook while he superglued atop the British Airways plane for the protest. The language is not safe for work or little ears.
"Here I am on top of a f****ing aeroplane at City Airport. I hate heights, I'm s***ing myself, I managed to get on the roof," James said Facebook video below. "I am so shaky."
Extinction Rebellion UK shared the video which was praised by environmental activists. They don't appear to recognize we are laughing at them not with them.
Brown Goes To Court
Brown denies causing a public nuisance and his attorney entered a not guilty plea on his behalf at the Westminster Magistrates' Court Saturday. His next court appearance will be in November at the Southwark Crown Court in London.
Brown was just one of 1,100 Extinction Rebellion protestors arrested in London last week.
News from The Mix