While hundreds of Extinction Rebellion protestors were using the age-old tactic of a sit-in to try and close down London City Airport on Thursday morning, at least one member of the group was taking far bolder action – "infiltrating" a flight.
Footage recorded by one presumably irate passenger aboard a plane waiting to depart, shows a smartly dressed man refusing to sit down while he spoke of the perils of climate change.
Despite the best efforts of the cabin crew, he stood his ground and at least temporarily prevented the flight – believed to be an Aer Lingus service to Dublin – from departing.
He said: "I don't wish to travel with you, but I don't wish to get off. I'm extremely sorry for the inconvenience."
Just about to take from London city airport. Our flight was infiltrated by a climate change protestor.
But a picture taken later shows the same man being taken off by police.
Back in the airport building itself, activists are attempting a three-day "Hong Kong-style occupation of the terminal building" to highlight what they claim is the "incompatibility" of the east London airport's planned £2bn expansion with meeting the government's legally binding commitment to go net carbon neutral by 2050.
Police made several arrests as the group sat and chanted "Fly today, gone tomorrow" in unison, as members of the public struggled to get past with their suitcases, PA Media reports.
Ex Met Detective John Curran attested at @ExtinctionR protest at City Airport. He had glued himself to the pavement. 49 arrests there in total.
Footage from the protest also appeared to show a former-policeman-turned-activist being detained at the airport.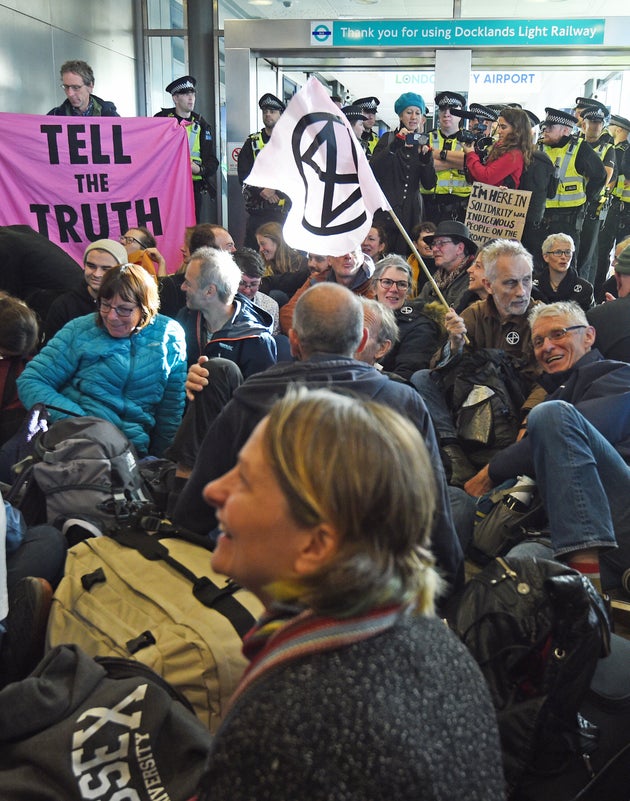 Those arriving for flights were redirected to a second terminal entrance by security workers and were not allowed to enter the building without showing their boarding cards first.
An activist who gave her name as Claire, 51, told the PA news agency: "I don't know what's going to happen over the next few hours, but I do know that a number of people have come here, City Airport, today to make the statement that there are many areas of our lives that are going to have to change because of the climate crisis we've created, and one of them is flying.
"We can't carry on with life, with business as usual," she said.
Claire said she had not made up her mind about whether she would allow herself to be arrested, but was later led away by police officers.
The sit-in comes on the fourth day of the Extinction Rebellion climate change protests, which are taking place across central London and other major cities worldwide.
A spokesman for the airport said: "We can confirm that a number of protesters have arrived at London City Airport.
"We continue to work closely with the Metropolitan Police to ensure the safe operation of the airport, which remains fully open and operational.
"As of 9.15am, there have been over 60 flights which have either arrived or departed."
News from Huffington Post