Dir: Vince Gilligan; Starring: Aaron Paul, Jesse Plemons, Robert Forster. Cert 15, 122 mins
It's a revenge movie. No, it's a get-the-money movie. No, it's a western. Wait, it's a trip down memory lane. El Camino: A Breaking Bad Movie doesn't quite know what it is, or what it wants to be. Six full years have passed since Vince Gilligan's TV masterpiece Breaking Bad came to an end after five series, which accumulated more plaudits and devotees with every passing year.
Its finale, in which mild-mannered schoolteacher-turned-drug kingpin Walter White (Bryan Cranston) went out in a blaze of wish-fulfilling glory, was loved by some, but disappointed others, me among them. In it, White freed his captured-and-tortured sidekick Jesse Pinkman (Aaron Paul) from a criminal gang, while being apparently fatally wounded himself.
Since then, the spin-off prequel Better Call Saul, about White's crooked lawyer Saul Goodman (Bob Odenkirk), has quietly gathered its own swag-bag of Emmys and Golden Globes, and divided opinion on whether it is better than the original. It's rich and subtle, yes, but Breaking Bad could take your breath away with its narrative and stylistic invention.
El Camino focuses on Jesse, last seen screaming into the night as he raced away from his human cage at the end of Breaking Bad. Ultimately, it's a study in pure isolation.
The dilemma of Milton's Satan, "Which way shall I fly?", that ends in the certain knowledge, "Which way I fly is Hell; myself am Hell" is put quite succinctly to Jesse in an early flashback, in which he dreams of going to Alaska and putting things right. Jonathan Banks's Mike Ehrmantraut puts him straight: "Sorry kid, that's the one thing you can never do."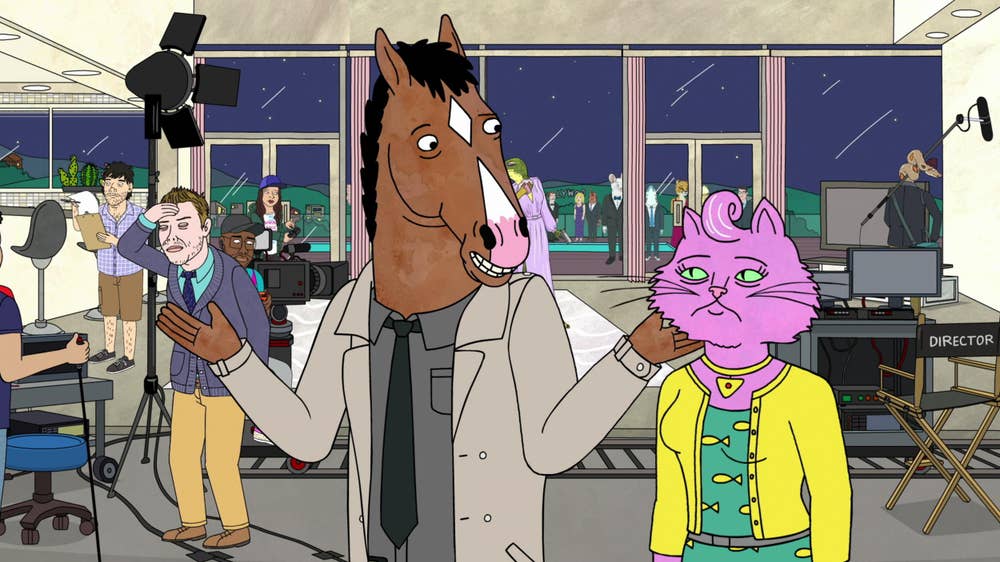 Aaron Paul slips into the character as if he has never been away. Jesse was the emotional heart of Breaking Bad, and in many ways its moral centre. The badness of bad things could be measured by the force of his reluctance to carry them out, or simply by his expression, how much they hurt him. In El Camino, his ever-present trauma and the ever-pressing manhunt for him puts Jesse beyond all normal human interaction, which, given that Breaking Bad was built brick-by-brick on character, leaves creator Gilligan few places to run.
Nevertheless, from the start it is clear that we are in the hands of a master storyteller, recalling early Tarantino. Jesse arrives at the pad of Skinny Pete and Badger, who are swapping insults about their videogame driving skills. "You couldn't drive Miss Daisy," quips Badger, "whatever that means," retorts Pete. Pete's reason for helping him was as unexpected as it was believable: "You're my hero and shit."
It's good to be reminded how funny Breaking Bad was, and Gilligan has most fun of all with his flashbacks to psychopathic Todd (Jesse Plemons), as he laments the death of the cleaning lady he killed because she chanced upon his hidden stash of cash. It was in the cut-out pages of a volume of encyclopaedias. "I wonder what she was looking up," he muses.
The hidden cash becomes all-important as Jesse tries to find it to pay for the same exit route he'd once spurned. That had been provided by Ed (Robert Forster), the vacuum cleaner salesman and professional "disappearer" fans know and love, but this sense of returning to all your favourite characters, alive or dead, gradually starts to feel too nostalgic.
El Camino is constructed on the premise that being freed in the finale of Breaking Bad wasn't even half way to freedom for Jesse. Flee the police, get the money, settle some scores, escape forever… the plot can't help but be focused on these basic drives. Gilligan works hard to keep things interesting, but shorn of Walter White's all-consuming hubris, El Camino's driving forces are too predictable. El Camino has many pleasures, but it's no Breaking Bad.
Story sourced from – The Independent