A 24-year-old man from Masury Ohio was arrested for allegedly attacking a woman with pizza, police say.
Kenneth Evans, drunk, was being driven home by an unidentified woman when he became belligerent and began yelling at the driver.
According to police Evans repeatedly pushed the driver's head and at one point hit her with a slab of pizza.  I just hope that the pizza had extra cheese on it.  I just love extra cheesy pizza.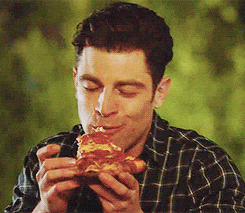 When police arrived at the house on a domestic abuse call, they noticed yelling from the residence.  It didn't take long for Brookfield Township Police Department to see that Evans was very drunk.
"He was highly intoxicated, and his mood was rapidly shifting," the report states. "The house was completely trashed, with the couch upside down against the wall."
Evans was released from the Trumbull County Jail and is charged with assault and criminal damage or endangering.
The relationship between him and the victim is not known.