Did you get to see the American Music Award last night?  If you watched the AMA what did you think about the performances?
The big 'performance' of the night (now getting the most media attention) was Christina Aguilera's tribute to the soundtrack of "The Bodyguard."  This is the 25th anniversary of the blockbuster movie starring singer Whitney Houston.
For many, Whitney is one of the greatest singers of all time.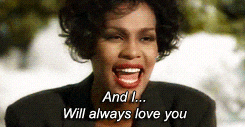 That's a lot of talent for anyone to pay tribute to, but was Christina the right singer to perform some of Whitney's biggest hits from the movie?
Some are saying 'NO' she was not.
And that's where the drama begins.
Singer Pink was caught making a cringe-worthy face during part of Christina's performance.
Which there's been a feud between the two pop stars for several years, but who have recently worked things out.
So the media and many wondered if that face was a result of Christina's rendition.  There's nothing like stirring the pot to get a catfight going again.
At first glance, it would 'seem' that Pink thought the performance was awful, but then you see pink bopping her head a bit later.
And Pink was quick to dispel any rumors that she did not enjoy Christina's tribute performance to Whitney Houston.
She wrote, "Yes. THIS. Christina f—ing killed it tonight for one of our favorite singers ever. This about Whitney, and I am in awe of Christina's talent. Show the clip where I'm in tears, you negative Nancys."
I watched Christina's performance and felt it had some high point and some very low points.  Not really sure if Whitney is rolling over in her grave or not.
But some of her fans felt the performance was awful and that Christina was the wrong person to pay tribute to such a great singer as Houston.
Here's Christina's tribute to Houston at the AMA's in case you wanted to judge for yourself.