Mariah Carey is accused of behaving in a sexual way toward her former personal security, Michael Anello.
TMZ reports that Anello is also accusing Carey of denigrating him by calling him a skinhead, a Nazi and a white supremacist.
Anello worked for the pop diva's former security company and is threatening to sue her over the alleged incidents.
He plans to sue over a $220,000 unpaid invoice for security his company provided to Carey from June 2015 through May 2017. Anello is after another $511,000 for two remaining years on a security contract, TMZ reported.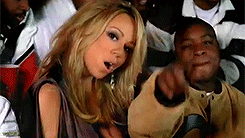 She "wanted to be surrounded with black guys, not white people," Anello claims in the draft suit.
TMZ claims it has obtained a copy of a draft lawsuit prepared by Anello's lawyer which alleges sexual and verbal harassment.
On one occasion during a trip to Cabo San Lucas, it's claimed Carey requested Anello's help with moving some luggage in her room. When he arrived, the "We Belong Together" songstress was wearing a sheer negligee, the lawsuit alleges. Anello tried to excuse himself, but Carey insisted that he move the luggage. At this point, he left the room.
Mariah's people tell us they were in touch with Anello's lawyer Monday and were agreeable to pay certain invoices, but we're told Anello is not satisfied with the amount.
Carey's reps "have no information on the sexual harassment claim," TMZ said.
The lawsuit is now on hold, probably due to the negotiations currently going on between the two.