The run has been put on annually since 2014 by a group of proud and dedicated Philadelphians.  The Philly 10K is inspired by the people's passion for community and running.
The runners go through South Philly and Center City (two of Philadelphia's most active areas) for the 6.2-mile loop.
Here's a map of the 10K route.  And one woman took the course and made it her own in a hilarious way.
Organizers say they celebrate the history, diversity, and unique neighborhood fabric that makes each of us proud to call this city home.  We run Philly because we love Philly is their motto.
One Philadelphian tried to obtain that motto but fell a bit short of the glory.  In her mind, she did something even better.
Anna Orso ran a 10K in Philadelphia she just wasn't an official participant in Philly, she, however, did follow the route for a five-hour run.  Wait a minute you say.  A 10K run shouldn't take that long to finish.
Well, it took Orso several hours to complete the Philly 10K because she stopped at every Mexican joint and even had a margarita too.    She was planning and hoping to go cheap this year by waiting for a possible bib transfer from a runner backing out at the last minute.   Unfortunately, by the time Orso realized it the 'transfer period' had passed two weeks earlier.
So I decided, screw that, I'll complete my own Philly 10K and spend my time doing something far better than the perpetually-overrated activity that is running: Eating tacos.
The other reason it took five hours to finish was she decided to walk the entire running course.  Orso kind of overdid it early on at several Mexican eateries.   With the heat pounding down on her she was starting to regret how full she had gotten.
I see my reflection in a storefront and self-loathing starts to set in. I cut up 12th Street and am starting to regret being so overzealous at the beginning of this endeavor. I realize the fancier Mexican places are coming up soon, and I imagine myself throwing up at El Vez. What will they do?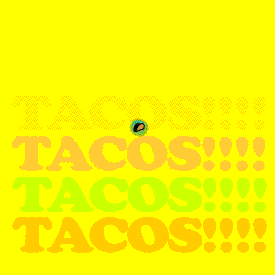 Here is where Orso stopped and pretty much how she documented her journey.
Mexicana Foto El Trompo Loco
These tacos are delicious. The steak is finely chopped so it's easy to eat, the meat is super juicy and, despite that, the tortilla holds up nicely. While a tad salty, the tacos have excellent flavor and come with two types of salsa. They are so good and I am so hungry that I eat two because I have no self-control.

0.6 Mile Walked/2 Tacos Eaten
Tamalex Restaurant
These tortillas are similar in consistency to the last location and have good flavor — not too corny, if you know what I mean. The carnitas have great flavor too, but at one point I get a mouthful of fat. I'm not complaining, but I only eat one taco this time. I need to pace.

1 Mile Walked/3 Tacos Eaten
South Philly Pizza
By the time I walk the five blocks there, it's past noon. I confidently saunter up to the front door ready for what I anticipate will be the best tacos of the day and… they… are… closed. My heart feels like it does when you can feel tears welling up behind your eyes. Crushed.

1.4 Miles Walked/3 Tacos Eaten
Taqueria La Mexicanita
 Thank you, good people of Philadelphia. I walk west and see the word "Taqueria" in the distance. I run to it. And it's also closed. Maybe I should have done this later in the day.

2.2 Miles Walked/3 Tacos Eaten
Cantina Los Caballitos
Chorizo tacos sounds good, and I order them to go. Hipster bartender offers me cheese, pico and guac, but I deny his advances because I cannot add more food into my life at this point. They cost $10 and take 15 minutes to arrive, by far the longest I've waited so far.

The chorizo is crispy and has the perfect amount of spice, but there is nowhere near enough of it. These tacos are all tortilla, and the tortilla itself is nothing compared to the two I'd had earlier. I eat one and give the other two away. I'm doing alright.

2.6 Miles Walked/4 Tacos Eaten
Los Taquitos De Puebla
I start reading the menu and the nice boy operating the cash register asks me what I want. I haven't decided yet, but I'm the type of person who panics when asked what I'm ordering and then orders the first thing I see, even if it's totally stupid or gross. This is a character flaw that I am working on.

The first thing I see is "crispy tacos."

The tacos are horrible. The worst. They have refried beans, which I'm fine with, but the "hard" taco shells aren't even hard and have the consistency of a shoe lace. They are topped with iceberg lettuce, and one would honestly need to be wasted to enjoy this garbage taco. I'm able to stomach exactly one of these abominations and throw the rest away because it's not even worth subjecting someone else to this. Ew.

3.1 Miles Walked/5 Tacos Eaten
Iztaccihuatl
The meat is absolutely delicious, probably the best I've eaten yet. It's fatty, juicy and flavorful. The tortillas aren't my favorite, but the meat is the real hero here. The tacos are served with a giant roasted poblano pepper and two sauces. I eat one taco and then I eat the meat out of another.

3.2 Miles Walked/6.5 Tacos Eaten
Taqueria La Veracruzana
I walk in, order three tacos al pastor to go and they cost me $7. The women running this place are super speedy, and I'm in and out within five minutes. I can't really tell if there is anything special about these tacos because I'm at the point where tastes are starting to sort of blend together. My first bite is a mouthful of raw onion, but after that, the pineapple touch is pleasant. I finish one and give away the other two.

3.4 Miles Walked/7.5 Tacos Eaten
Quetzally
The woman at Quetzally hands me my tacos and a bag of FREE CHIPS which immediately changes my mood because I love free chips. The tacos are way better than I expected. The tilapia is fried and the tacos are topped with a lime crema of some sort that is delicious. They're so good, and I know I would've enjoyed them more if my taste buds weren't already overloaded. I eat a full taco and a bunch of the fish out of another. I'm counting it as one-and-a-half.

4 Miles Walked/9 Tacos Eaten
El Vez
They aren't traditional tacos by any stretch of the imagination and the tortillas are nothing special. But the chicken is finely chopped and has a good spice level while the tacos are topped with salsa and avocado, which I thoroughly enjoy. I realize they're small and I can't eat one taco because then the bartender will get offended, so I eat two.

4.6 Miles Walked/11 Tacos Eaten
Lolita
 I sit outside for a moment, order the cholula fried chicken tacos that cost $12 and though they are delicious and crispy, I eat exactly one. I'm not sure what it really tastes like because I can't feel anymore. I apologize to my very kind server for my rudeness and explain that I'm just very full.

4.7 Miles Walked/12 Tacos Eaten
Chipotle
As the woman is making them, I think about throwing up on the glass and what would happen if that occurred. I feel like I'm so close to being done. The woman asks me what kind of rice I want on my tacos —what is WRONG with this chain? — and I immediately feel even worse. I get only rice, black beans, barbacoa and pico on my tacos because I can't stomach adding anything else.

5 Miles Walked/13 Tacos Eaten
South Philly Pizza redux
I place my final order of the day: three tacos al pastor for $7. I get them to go and eat one before I leave. They're delicious, and right up there with some of the best I've eaten all day. I realize it's 4:15 p.m., and I am finally finished.

6-ish Miles Walked/14 Tacos Eaten
If you are interested in following in Orso footsteps here's a map she created for her 10K.  Maybe the Philly 10K run can be nicknamed the Taco Run?